Mar 2, 2020 05:47 PM Central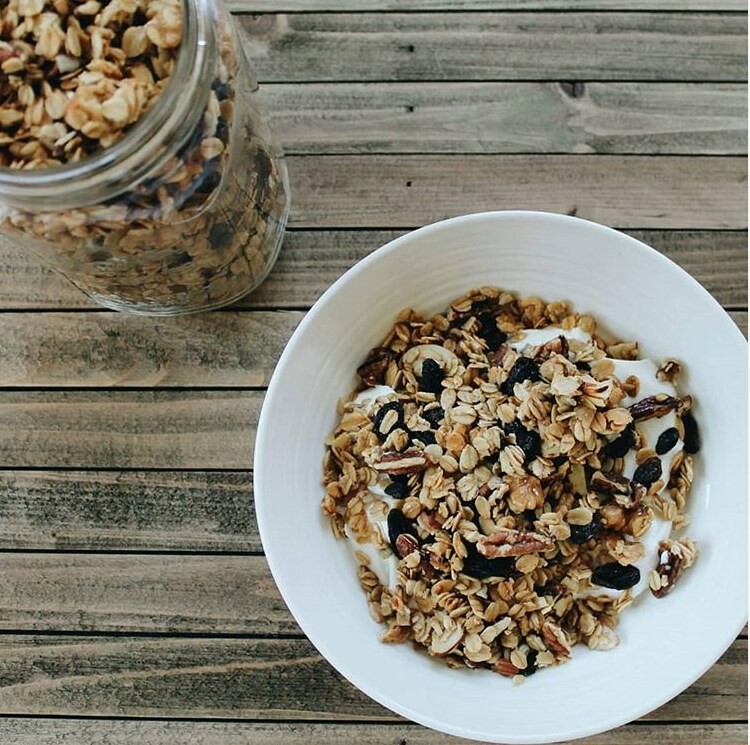 This recipe is a staple in our house! I mix up a new batch every two weeks and it has completely replaced our breakfast cereal. The nuts add a ton of protein and fat so little bellies stay full all morning long. You can substitute any nuts or seeds that you'd like.
Easy Homemade Granola

Ingredients:
7 cups of old fashioned oats
1 cup of sliced almonds
1 cup of chopped walnuts
2 cups of chopped pecans
1/2 cup of sunflower seeds
1 cup of unsweetened coconut (optional)
1 cup of raisins
1 cup of dried apples, chopped
3/4 cup of butter
1 cup of honey
2 tsp of vanilla
1 tsp of salt
2 drops of

1. Preheat oven to 250 degrees.

2. In a large bowl, mix together the old fashioned oats, almonds, walnut, pecans, sunflower seeds, and coconut (if using).

3. In a small saucepan, add the butter and honey and stir on low heat until melted. Remove from the heat and add vanilla, salt, cinnamon bark vitality oil, nutmeg vitality oil, and ginger vitality oil to the melted honey and butter. Pour over the dry ingredients and stir until well combined.

4. Line two 10″ x 15″ baking sheets with parchment paper. Divide the oat mixture evenly between the pans and spread into an even layer.

5. Bake for 75 minutes.

6. Allow the mixture to cool for 20 minutes. Break the granola into small chunks and stir in the dried apples and raisins. Store in an airtight container for 2 weeks.

Enjoy!!