Feb 13, 2020 11:13 AM Central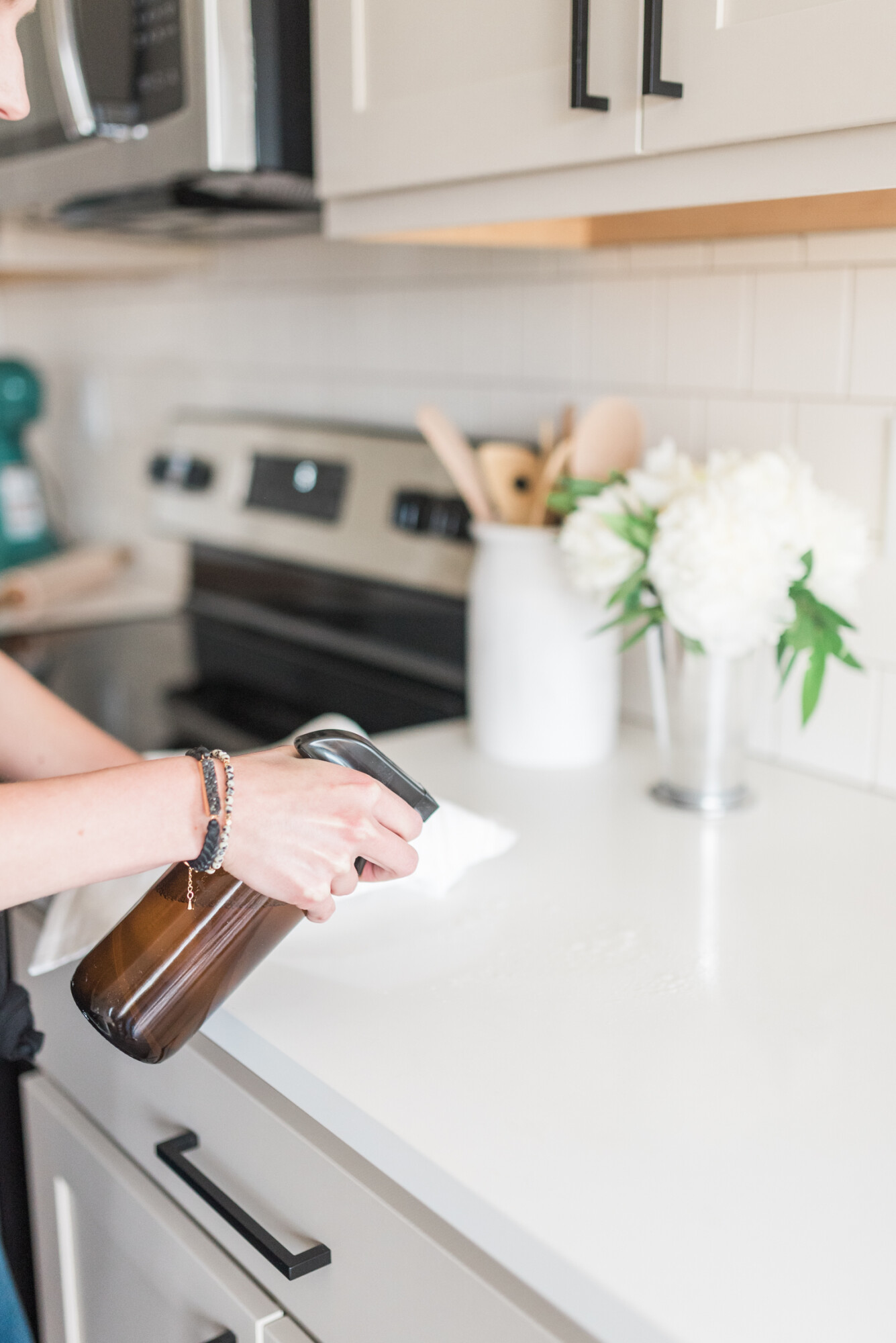 Ahh! There is nothing better than a clean kitchen! The reason I started using essential oils was to mix up my own household cleaners.
I wanted to reduce our exposure to toxic chemicals as much as possible. I was tired of getting bloody noses when I cleaned the bathroom, and I didn't want to worry if my children got into the cabinet under the kitchen sink. I've found tha
t the homemade versions work just as well as conventional cleaners and they don't leave me lightheaded when I'm finished using them!


Some reminders when mixing your own cleaning products.

1. Essential oils are very potent and can break down plastic so it is best to use
glass spray bottles
if you are cleaning with essential oils.

2. It is best to use distilled water when mixing up your own cleaning supplies. Tap water contains bacteria and can grow icky things if it is sitting in a bottle for a while.

3. Give your spray bottles a shake before using to help disperse the oil into the water.



Here are some of my favorite household cleaning recipes.

All Purpose Cleaner
Fill a
glass spray bottle
2/3 of the way with white vinegar and 1/3 of the way with distilled water. Add 20 drops of
Lemon essential oil.
Great to use for stove tops and stainless steel appliances. Add 10 drops of
Thieves
or
Purification
essential oils for an extra boost.



Carpet Deodorizer
Add ½ a cup of baking soda to a bowl. Add 6 drops of
Purification essential oil
. Mix with a spoon until the essential oils are evenly dispersed. Sprinkle liberally over the carpet and let it sit for 20 min. Vacuum up the baking soda and enjoy the fresh smell of your carpet! You may want to double this recipe for a larger carpet.



Dryer Balls
If you are looking to ditch the toxic dryer sheets,
wool dryer balls
are a great alternative. I love to add 6 drops of essential oils to one of the balls for a fresh smelling load of laundry. You can add any essential oil you would like.
Lemongrass
is my favorite!


Glass Cleaner
Ingredients
1 cup of Distilled Water
1 cup of White Vinegar
16 drops of
Lemon essential oil


Combine all ingredients in a
glass spray bottle.
Shake to disperse the oils before each use.



Kitchen Sink Scrub
You will Need:

1 glass jar

2 cups of baking soda
10 drops of
Lemon essential oil

10 drops of
Thieves essential oil


Pour all of the ingredients into the jar and mix together.

When it's time to use it, sprinkle the mixture all over the sink and let it sit for a minute. Add 1 tsp of
Castile Soap
(or dish soap) and scrub all over with a brush and rinse it down.


Bathroom Tile Scrub
Ingredients
1 cup of Baking soda
1/4 cup of
Thieves Household Cleaner

10 drops of
Lemon essential oil


Mix all of the ingredients together in a small bowl or jar until it forms a paste. Scrub the paste over the tile and allow to sit for a few minutes. Rinse off.



Toilet Bowl Cleaner
Ingredients
1 capful of
Thieves Household Cleaner

Baking Soda

Sprinkle Baking Soda around the inside of the toilet. Add capful of Thieves Household cleaner and scrub with toilet brush. Easy peasy!



Do you have any favorite cleaning recipes you'd like to share? Leave a comment below!