Apr 7, 2020 09:16 PM Central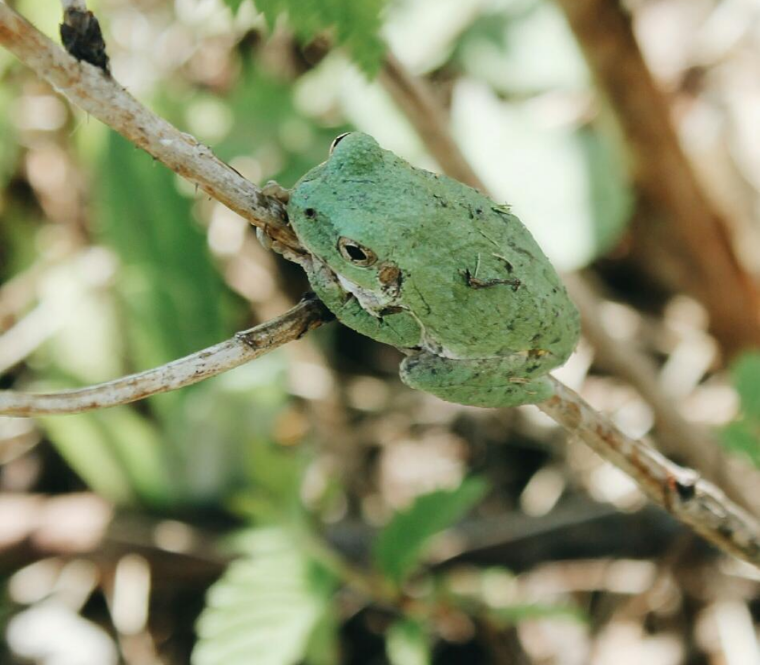 One of the most beautiful things about homeschooling is how it has brought our family together. "What did you learn in science today?" isn't a question at the dinner table because my husband is right there in it with us every day. I didn't set out to homeschool, but I'm so glad I took the leap!
Nature study is one of our favorite things to do as a family. Spending time out in the fresh air and sunshine is so good for the soul. Sometimes if we have cranky pants on we grab our outside gear and explore in our own backyard. After only a few minutes outside we take a deep breath of fresh air and our moods have changed.
I want my children to open their eyes and I want their minds to be filled with wonder. Spending time in nature has sparked so many questions about how things work.
"Why does the male red-winged blackbird come in March but the female waits until May?"
"Can I plant three bean seeds so I can amend the soil around each one to change the nitrogen levels? I wonder if it would change how fast they grow?"
"Are honeybees alive in their hives during the winter?"
And the list goes on...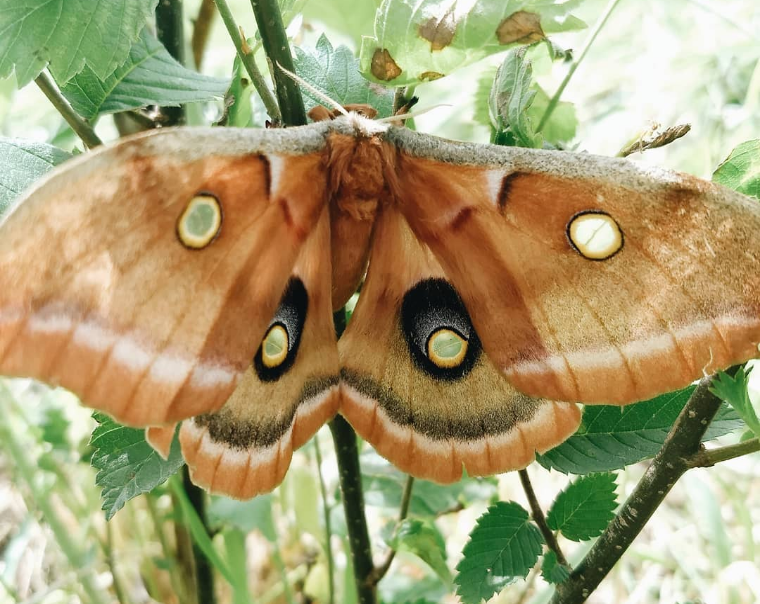 We found this Polyphemus Moth hanging out in the raspberry patch last June
The average 8 yr old today can name more cartoon characters than native plants or insects in his own backyard. Our society is suffering from Nature Deficit Disorder and our time spent indoors is impacting our physical and mental health. I don't see anything wrong with the occasional TV show here or there, but I want my kids to be alert and curious.
I want them to notice the small details in this wonderful world God has given us.
When we started making nature study part of our weekly routine, I used this curriculum. It's a great starting point. The author has 48 weeks of guided nature study mapped out for you according to the calendar. She suggests books to check out from the library that go along with the weekly theme and she has art projects to do with the kiddos. It's well planned and perfect if you like to follow a plan.
The only reason I broke away from this curriculum was that my children eventually became so curious with things we found every day in our backyard that I wasn't able to keep up with their natural curiousity and our planned weekly themes. So I let curiousity be our guide and this is how we do our nature studies now.
We go outside every day for at least 30 minutes. We do this in the winter too. We look for birds, seeds, plants, bark, tracks, moss, etc... We are careful to leave animals in their natural habitat. We sit down and watch them move, build nests, and interact with one another. We memorize bird calls and animal tracks.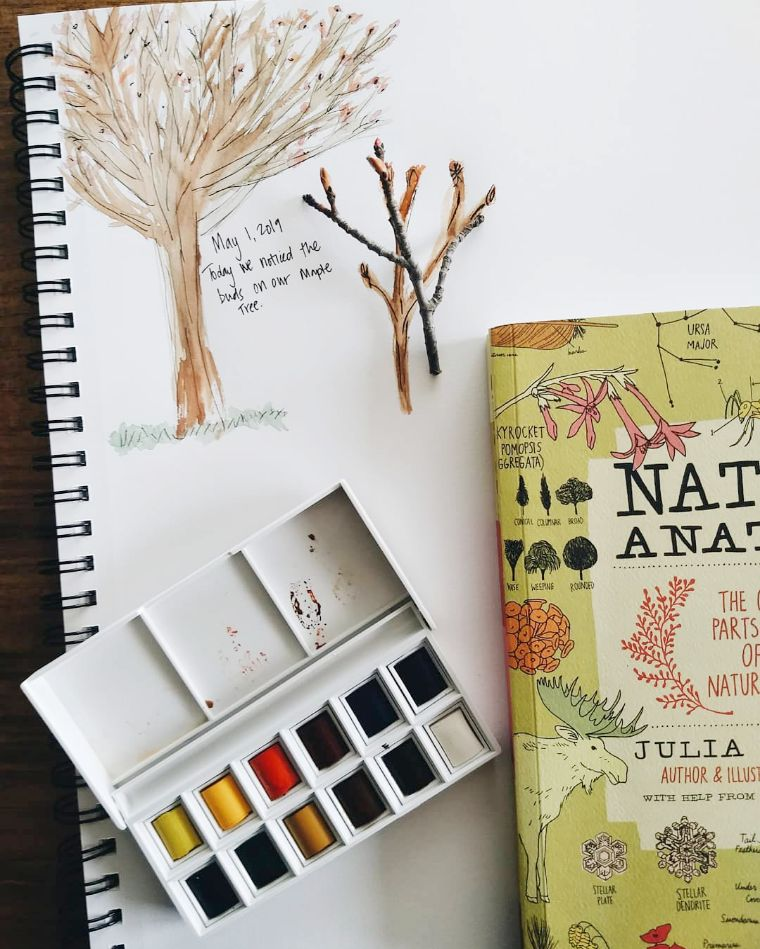 When we come back inside we make a few notes in our nature journals. This year I'm trying these, but for the past few years a simple watercolor notebook has been perfect. We jot down the date, a brief description of what we saw, and then my kids sketch a picture. (I snap a photo on my phone when we are outside so they don't forget details). They like to use watercolor paints to paint their sketches.
We only add things to our nature journals 2-3 times a week because I want my kids to do their best sketching instead of treating it like a daily chore or something to check off a list.
We do, however, jot down a few notes in this book every single day. The squares are small so we just write down the time of day we are observiving, the temperature, a brief description of the current weather, and what we are noticing. This is a 5 year observation calendar, so you can look back and see what was happening on this date last year and the year before! We notice the most differences in March and October. Some years have snow on March 25th and some years it is 70 degrees!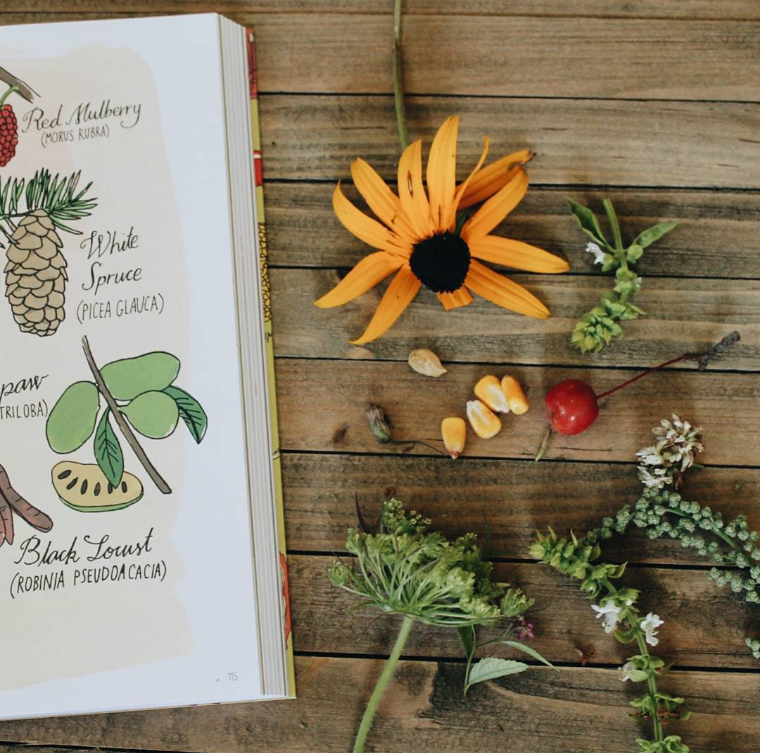 What do you do when it's raining or bitterly cold?
We also love to watch YouTube videos about animals or plants and then sketch in our journals. World of Animals is an awesome Usborne book that already has YouTube links on each page!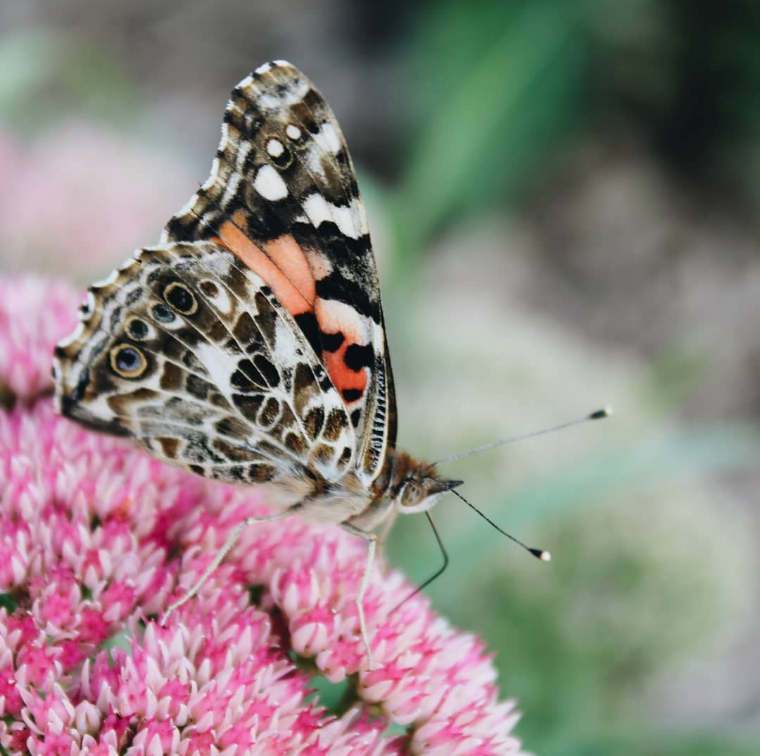 We found this Painted Lady Butterfly on our sedum plant
Helpful Rescoures to Guide your Nature Study
Field Guides:
Comstock's Handbook of Nature Study is our FAVORITE resource. If we go for a walk and notice blue jays, then we come home and look them up in our book. If we see clover in the field, we come home and look it up in the book. She provides a ton of questions to guide the children as they think and observe.
Images to Copy:
Apps:
Merlin Bird ID is a fun app that helps you to identify birds as you find them, You can notify other users that you've spotted something and you can see what has been spotted in your area that day by other bird watchers.
The Audubon Bird Guide is a fun app that allows you to identify birds and listen to their calls.
What is the most unique plant or animal that you've observed while you were outside?